2017 Meeting Summary – Dr. Jason Jameson, President
President's Post-Meeting Report
Arizona Urological Society
2017 Meeting Sept 17-20
Sheraton Grand Wild Horse Pass
Click here for photo gallery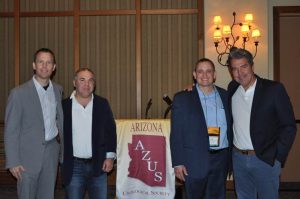 The 44th annual meeting of the Arizona Urological Society is now behind us and based on the evaluations, I am happy to report that our 50+ attendees gave the program high marks and good feedback.

The scores were excellent with 5.0 being the best. Meeting value (4.82), Quality of speakers (all between 4.5 to 5.0), and location at the Sheraton Grand Resort (4.62).

This was a weekend power-packed meeting featuring a total of 8.5 hours of CME as well as a good deal of discussion and active engagement by all attendees. Click here to see the program book.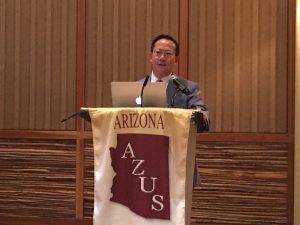 The meeting was attended by our community urologists and academic leaders including both Mayo and ASU with participation by Benjamin Lee, Erik Castle, Eric Zeidman, Mike Darson, Scott Swanson, John Hansen, Ali Boran, John Lin, the AZUS officers of course, and our fantastic Residents.

It was a pleasure to see a good deal of networking with our Industry friends and exhibitors – to whom we wish to acknowledge and thank for their support. There were 23 companies participating including a fully functioning daVinci Robot. Click here to see the list of exhibiting companies.


Friday evening the meeting kicked-off with a beautiful evening reception, supported in-part by the Phoenix Urologic Society – which we greatly appreciate.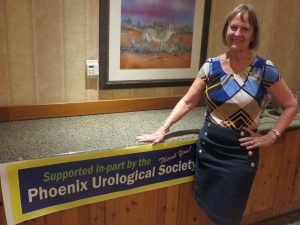 The CME portion began on Saturday morning with a urologic cancer session, featuring both of the keynote speakers and a panel discussion. Dr. Rene Sotelo from USC gave an excellent talk on complications of robotic surgery, with incredible videos that no one wants to experience firsthand. And Dr. Fernando Bianco from Miami reported on his cutting edge techniques and results of MRI-guided focal cryotherapy of prostate cancer. Dr. Parminder Singh, a GU oncologist from Mayo Clinic, discussed the exciting advances in immunotherapy in bladder cancer.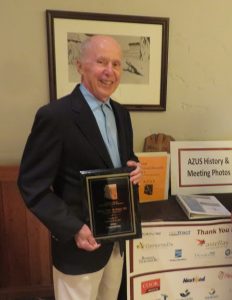 The highlight of the morning was the presentation of the 2017 Distinguished Member Award to Dr. Wilfred "Bud" Potter, one of the founding members of AZUS. He truly is a "Physician of Many Firsts", a pioneer of urology in Arizona. Please continue to congratulate him for his lifelong commitment to the AZUS!

The rest of Saturday morning focused on practice management and advocacy. A panel discussing regulatory challenges included insight from John O'Roarke (administrator from Urological Associates of Southern Arizona, Tucson), Eva Samtmann (past Washington State Urology Manager's President), and former AZUS President Michael Darson (Scottsdale). Both federal and state legislative updates as well as advocacy tips were provided.
 It was an honor to have AZ State Representative Heather Carter (district 15) at the conference for the third time—she was the sponsor for the Urology Telemedicine bill last year as well as the Bladder Health Month resolution. She has been a true friend of Urology and we look forward to working with her again during the next legislative session.


Some of the advocacy tips included simple techniques such as effective use of email by: 1) making it immediately clear your are constituent in the subject line of the email; 2)  giving your cell phone number;  3) inviting the legislator to grab a coffee together; or 4) better yet, inviting the legislator to see your practice and the issue first-hand.
After a full afternoon of free time, the evening CME included talks on genetic biomarkers by Dr. David Crawford and an excellent medical malpractice session on vaginal mesh litigation with Dr. Matt Karlovsky (East Valley) and Cal Raup, JD (Phoenix). It was my honor introducing and hearing from Navy Captain Dr. Steve Ferrara, born and raised in AZ, who is an interventional radiologist running for U.S. House, District 9. His short talk was both inspiring and motivational. We can never have too many doctors in congress! The evening concluded with a superb "Wine and Dine" dinner and a boat ride along the resort's river.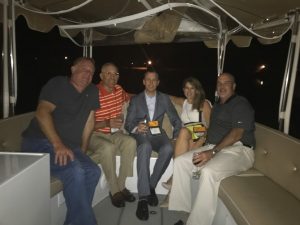 Sunday morning included two more talks from the keynote speakers: Dr. Sotelo presented robotic repair of GU fistulas, and Dr. Bianco gave an excellent review of some of the latest prostate cancer trials, including PIVOT and ProtecT.
Practice management talks were given by AZUS Members, including Al Borhan (Implementing Scribes into Your Practice), Michael Darson (Rezum Update), and John Lin (Pearls of Solo Practice). Dr. Sameer Keole, a radiation oncologist from Mayo Clinic, discussed IMRT Reimbursement and possible Advanced APM's urologist may use to meet CMS requirements.

Residents from the University of Arizona and Mayo Clinic presented their research, and the meeting concluded with a session of "Interesting, Bizarre, and Difficult Cases" presented by members of AZUS and residents.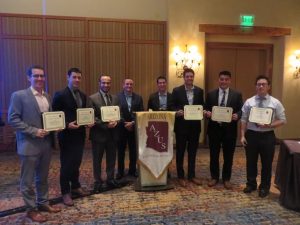 I wish to thank my fellow officers for all their hard work, which was distributed more this year than ever: Matt Gretzer, Past President; Tony Woodruff, President-elect; Mitzi Barmatz, Sec/Treas; Erik Castle, Program Chair—we had numerous phone conferences and an officer's retreat to plan this meeting, resulting in a great meeting.

As many of you know, there was a small one-time registration fee this year associated with the added costs of outside speakers, increased CME and a top resort, including amenities and excellent food and beverages. We appreciate the feedback and understanding of all members on this surcharge.

And last but certainly not least, I want to thank the entire DeSantis Management Group for organizing one of the best AZUS meetings ever. They truly are one of the best management companies I have ever worked with!

On behalf of all the officers, I thank all of you for your membership and continued support—we want to hear your thoughts and suggestions as we strive make AZUS a valuable asset to everyone!
Jason Jameson
President