AZUS 2021 Post-Meeting Take-home Notes

By Aqsa Khan, M.D., AZUS Program Chair
Assistant Professor
Mayo Clinic, Department of Urology
July 30-Aug 1, 2021: El Conquistador Resort, Tucson, AZ
Many thanks to Dr. Khan for her thoughtful capturing and sharing of these points during the sessions.

---
Single Port Robotics [Dr. Mark Tyson]:
Single port robotic surgery offers several advantages: pain control, bleeding
Disadvantages: length of surgery time, ?cost, limited mobility, no assistant
Part of a phylogenetic tree of robotic surgery
Tips for single port:

Keep camera port above the instruments
4cm incision 3cm above umbilicus
Use an assistant port (esp. early), and make sure to place it at least 5cm away from incision
Use a Ray-Tec to assist with retraction
Grip strength on all instruments is the same (don't have some that are stronger or weaker)

You can use incision to do the diversion extracorporeal, then redeliver, redock and connect intracorporeal (hybrid approach)
Future recommendations for instruments: vessel sealer, Cobra
Orgovyx Oral ADT [Dr. Ganesh Raj]:
Review of the history of ADTs in advanced CaP
Relugolix (FDA approved 2020) – GnRH antagonist
Treatment considerations in androgen deprivation therapy:

Limits testosterone effects all over, not just in the prostate
Side effects of ADH: cardiovascular disease, diabetes, osteoporosis

NCCN recommends optimizing conditions pre-treatment to limit risks after treatment (diabetes, CV disease, osteoporosis)

Route of administration are depot injection, implants, or an ORAL pill

Only FDA approved oral ADT for advanced prostate cancer (Relugolix)

Can prolong QT interval (not to be used in congenital known prolonged QT interval, or on a drug that can cause prolonged QT)
Mech of action: block LH/FSH release from pituitary because blocks GnRH receptor
HERO study: Phase 3 study: Orgovyx vs Leuprolide (360mg day one then 120mg once a day vs. 22.5mg SC q 3 mon)

1st endpoint: testosterone
Inclusion criteria: serum T >150ng/dL, serum PSA >2, ECOG 0/1
Exclusion: significant CV disease (MI within 6 months), arrhythmias
N 622 (orgovyx) vs 308 (Lupron)

Sustained T suppression:

7% suppression at 48 weeks compared to 88% Lupron

Works very quickly. 48hrs becomes castrate, compared to 3-4 weeks with Lupron.
Suppression less than 20, higher with org compared to Lupron
At 3 months, 92% average PSA reduction.
One of key warnings, after medication is stopped after week 48, there was a more rapid rise in T back to lower normal levels compared to Lupron.
Significant adverse events: rates higher in Lupron
Lupron causes continuous higher risk in CV events, compared to Orgovyx.
Nonserious adverse events (hot flashes), similar
Can be w/wo food. Take same time. Swallow whole
Avoid oral P-gp inhibitors (omeprazole). If must be on one of these can take a short 2-week break on the orgovyx to take the other medicine, and then restart

Summary

Once a day drug
3 pills the first day, then 1 pill per day
rapid T suppression, rapid T recovery
Relatively well tolerated
Decreased risk of CV side effects

Patient support program available
Reconstructive Surgery & New Techniques [Dr. Sunchin Kim]:
Pre-op workup

Let strictures heal for a few months
Robotic ureteral reimplant success 80-100% (compared to open 90% success)
Robotic Boari : success 75-100%

Reimplant

Post op care: stent 4-6 weeks, foley 5-10 days

f/u renal scan 3, 9, 18 months

Non-transecting side-to-side reimplant as an alternative to reimplant.

Boari flap

How much capacity is lost ?

500mL capacity goes to 394mL (lose ABOUT 100CC)

Nice to know the bladder capacity beforehand (measure anesthesia if need to)

Buccal Mucosa Graft Ureteroplasty

Robotic approach described in 2015, now multiinstitutional experiences being reported
ICG indocyanine green can help identify the location of the stricture
Buccal graft 1.5cm width (compared to 2cm for urethroplasty)

Appendix for ureteroplasty

Preferred for the R side.
Good for distal strictures
Less mucous production
Smaller diameter allows for less urine pooling
Downsides: length is unknown, can still make some mucous, rare but can have some strictures
Can be done as substitution OR onlay

Single port might be a great tool for reconstructive surgeries.

Comes with Firefly technology
Updated AUA Guidelines on Metastatic Prostate Cancer [Dr. Parminder Singh]:
Biochemical Recurrence w/o Mets after Local Treatments Exhausted

PSMA Scan: as PSA number goes up to 1.5-2, PSA PET positivity rate also goes up.

If PSA is 0.2, PET positivity rate is 42%, which goes up to 95% when PSA is around 2.

Much different than before when PSA needed to be much higher before you can detect recurrence.

CONDOR study: presented as ASCO 2020: About 85% true positivity rate for true recurrence.

Recommendation:

Use novel PET-CT scans (e.g. Fluciclovine, choline, PSMA) in pts with PSA recurrence after failure of local therapy as an alternative to conventional imaging or in setting of negative conventional imaging.
(can help find micro-metastatic disease)

Metastatic Hormone-Sensitive Prostate Cancer

Standard of care is moving to combination therapy (ADT + 2nd generation agents)

Hormonal therapy: Abiraterone (+prednisone), bicalutamide, enzalutamide
Chemo: docetaxel, cabazitaxel

Fatigue is difficult to manage and should be discussed with the patients.
STAMPEDE trial: abiraterone for CaP not previously treated with hormone therapy

High-risk (pT3+, PSA 40) – rapidly rising PSA after local therapy (surgery/xrt).

Chemotherapy worked as well as Lupron alone, which used to be the standard of care 10 years ago.

High-volume disease: this is a good alternative in patients (esp. patients with coverage issues) – can go onto Lupron later.

Newly Diagnosed mHSPC Recommendations:

Combination ADT (Abiraterone/Apalutamide/Enzalutamide) or ADT + chemo as 1st line
Can add RT to low volume disease patients
Single oral agent is not recommended
Genetic counseling
First generation oral anti-androgens should not be offered as 1st line

Non-metastatic Castrate Resistant Prostate Cancer:

PT you would have given ADT post prostatectomy or XRT for high risk disease and PSA is rising (becoming castrate resistant without any evidence of disease)
Darolutamide: the only med approved for this indication
Recommendations:

Clinicians should offer apalutamide, darolutamide, of enzalutamide with continued ADT
To nmCRPC patients at high risk for developing metastatic disease (PSADT<10mo)
No role for chemo or immunotherapy
Observation is appropriate for PSADT>10mo
Imaging followup in 6-12 mo.

Metastatic Castrate-Resistant Prostate Cancer
Bone Health

Prevention treatment: weight-bearing exercises to advanced CaP on ADT
High risk fracture risk due to bone loss, recommend preventative therapies with bisphosphonate or denosumab and referral to doc for OP management
Prescribe bone-protective agents (denosumab or zoledronic acid) for mCRPC with bony mets to prevent skeletal-related events
Second Generation Ant-Hormonal Agents: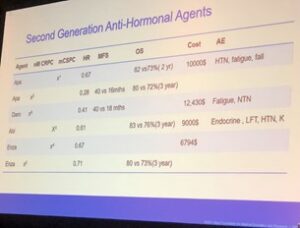 Ultrasound-Guided Percutaneous Nephrolithotomy [Dr. David Zhou]:
Increase in number of urologists getting their own access for PCNL.
Difference in outcomes if urologists get their own access?

LOS, readmissions, transfusion, 2nd operation within 90 days lower if urologists get access

Learning curve for PCNL is 60 cases (fluoroscopy PCNL, not US PCNL)
Pull pannus over if doing supine positioning and tape it.
Technique for access:

Dorsal lithotomy, 5F angiocatheter, highlight the anatomy, advance needle to contralateral axilla
2 fingerbreadths below the ribs and lateral to paraspinous

US PCNL

Advantages:

Lower radiation exposure
Real-time visualization of adjacent structures
Easier to identify most posterior calyx
Shorter learning curve

Tips/steps:

Orient US probe in a head (upper)-to-foot (lower) position
Place probe in mid-axillary line
Angle probe parallel to 11th rib to eliminate the rib shadow
KEY: Visualize your kidney

Longitudinal (insert needle at one end of the probe which is the short side)

Dilating under US – tough, needs experience. If need to bring in fluoro to do it safely, do it.
Dilation method is important:

Balloon dilator: readily see the tip of balloon dilator
Metal dilator: can be trickier

Tips:

Know the US machine!!!

"Depth" button is usually the knob (zooms kidney in and out)
"Gain" corresponds to the level of the US machine, buttons on the side of the machine
Optimize the trajectory
Interesting Cases:
Modified Martius Ventral Flap Urethroplasty for female stricture
IVC Tumor Supra-Diaphragmatic Tumor Thrombus responding to Immunotherapy in a Jehovah's Witness patient
Update on Erectile Dysfunction & Investigational Treatments [Dr. Peter Burrows]:
Newer treatment -> 2010: Staxyn; 2012: Stendra
We need a treatment for ED, not just treating the
Old paradigm:

1st line: PDE-5 inhibitors
2nd line: VED, ICI, MUSE
3rd line: IPP

2018 AUA ED Tx Guidelines

1st Line: lifestyle changes
2nd line: Shared decision-making regarding risks/benefits with man and his partner

W/u: glucose, HbA1c, Testosterone, Lipids
Treat T deficiency

T deficiency is not ideal as monotherapy for ED (unless they are young men, have mild ED, or have a very low baseline T)

Unmet Needs 2021

What's the cure?
Why did medicines stop working?

Low Intensity Shock Wave Therapy

Used in other fields (shows faster and reproducible healing)
Focal shock waves, NOT radial acoustic shockwaves
High intensity 50-100 MPa –focal destruction
Acoustic waves AKA radial are pneumatic: affordable (20-30k), but no data says there is an improvement on this compared to focal linear waves

Gainswave™: not a machine but a marketing machine

LSWT for Peyronie's doesn't change curvature but did improve the pain associated with the disease
LSWT: Mechanism of action by induce a shock ->

Recruit stem cells, recruit wound healing, recruit resident stem cells
Reduces inflammatory mediators: TNFa, TNFb, IL-1, IF-g
Decreased macrophage infiltration, increased M2 wound-healing Isotype
Induces angiogenesis by increased VEGF and angiopoietin

In penile rat studies, shows improvement of intracavernosal pressure
LSWT Randomized Human Trials

7 trials (N of the studies 30-90s)

Outcome: change of >4 in IIEF score:
Meta-analysis: shows some benefit of LSWT compared to placebo.

Problem:

How many shocks?
How often?
What machines
Fails if lower number shocks/session

AUA Guidelines consider this investigational

Stem Cell Therapy

Animal models showed great promise (diabetic model and cavernosal nerve injury model)
Regenerative Medicine clinics have gone out of business $10-15k.
Part of the problem is how do you keep the stem cells within the penis.
Stem cells: adipose, placental, umbilical, bone marrow mononuclear
AUA Guidelines considers it experimental.

Platelet Rich Plasma (P-shot)

Easy, peripheral draw mix w Ca gluconate. Inject 3-5cc. Charge $500-1000/time.
No meaningful clinical studies.
One study from 2018: N=4. Claim improvement of IIEF by 4.14.
AUA Guidelines considers it experimental, should be under research protocols and with IRB approval
[Dr. Waleed Ikram]:
Improving on current imaging protocols to identify factors that are better to distinguish between MIBC and NMIBC on contrast CT scan.  Worked with computer scientists at ASU to extract better information from the CT scans.